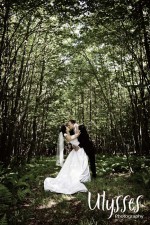 Perhaps the most beautiful thing about Victoria & Steven is their way of molding any situation into an occasion for deeply meaningful memories. Whether it was a special moment spent taking smiling photos with her mother or a small reminder of her older brother carried close to her, Victoria was always thinking of others around her. Steven's laid back but focused approach helped keep things running smoothly throughout the day, and he had a fun-filled time with each of his friends.
Victoria & Steven, your entire day was marked by the love of your families, both immediate and extended. We couldn't help but have broad smiles and hearty laughs ourselves as we enjoyed ourselves with all of your guests. And your private photo session – AMAZING! We can't wait to show you. We were so privileged to be given a front-row seat for this entire day's experience. Thank you.
Their gallery of photos will be released upon their return from their honeymoon. Look for it in the "Client Proofs" area of our main website. Until then, enjoy this slideshow teaser for a brief look into their beautiful day. Just click the "PLAY" button. Feel free to leave a comment for this blog entry when you're done. We'd love to hear from all of you again.
More fun during Victoria & Steven's Engagement Session.