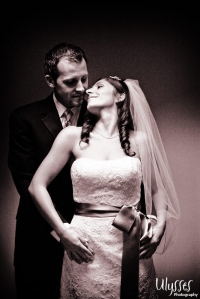 When January & Glenn commissioned us for their wedding, we knew that we were going to love photographing this couple. A beautiful pair both inside and out, January and Glenn chose to see one another before their ceremony. This turned out to be the perfect arrangement for them, as they shared moments for just the two of them privately. Seeing Glenn slowly spin his bride around as he gazed at her was absolutely precious.
The beautiful Chateau Hathorn was the site for both their ceremony and reception. We can never say enough good things about this venue, the staff there, and the food :). Helene had every detail taken care of. It's no wonder January & Glenn felt completely comfortable in this unique venue. We were able to enjoy a break in the rainy day, when we took the couple outside for some romantic photos before enjoying the excellent dinner and party inside. Their tight friendships with their circle of friends was also a joy to see.
January & Glenn, spending the day with you was like being with family. We always enjoy these sorts of experiences where we can take our time to get to know our couples, which makes what we do so worthwhile. Thank you, also, for the incredible meal.
We know you'll be thrilled to see your wedding photos. The online gallery will be posted soon to the "Client Proofs" area of our main website, so keep your browsers ready. If any of our readers would like to leave a comment, please do so by clicking on the "Comments" link below. We love hearing from you.
(Click any image for a larger version.)