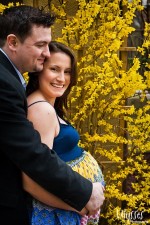 I can't tell you how excited we were about getting together with Vivian & John again. Their wedding was among our most memorable from a couple years ago, and we were so happy when they asked about our photographing Vivian's maternity session. John and Vivian were both there to greet us with warm hugs. Even their Labradors were enthused to see us!
Their lovely home served as the backdrop for all of our shooting. We could hardly believe Vivian has only another month to go before delivering their baby boy. She's in great shape and feeling well, with the same beauty and grace that we loved about her from the time we first met them.
Vivian & John, we are so incredibly thankful to know you, and we share in the joy of your growing family. You both did a wonderful job. It felt just like old times photographing you again. I wanted to put up a quick teaser photo for you while I work on the rest of your gallery images. I'll have a few more images from the day posted on the blog soon, so keep your browsers pointed here! The complete gallery will be available soon in the "Client Proofs" area of our main website. We can't wait to show you!
(Click image for a larger version.)