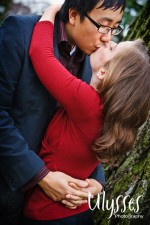 We first met Rebecca & Ed when she was a bridesmaid in Amanda & Jason's wedding. Even then, this couple stood out to us as a pair who enjoyed the pure pleasure of one another's company. So we were genuinely excited when Rebecca called to speak with us about their own wedding. We couldn't have been happier for them after seeing first-hand just how much in love they are.
Their definite fun factor and hip sense of fashion made their engagement photo session a blast. While we walked and got reacquainted with each of them, we were privileged to create sets of irresistible images highlighting how they truly feel about one another. We can't wait to show them the photos!
We're eager to join them on their wedding day at Perona Farms.
(Click any image for a larger version. Then to navigate,
hover your mouse over the left or right side of any large image, and click.)