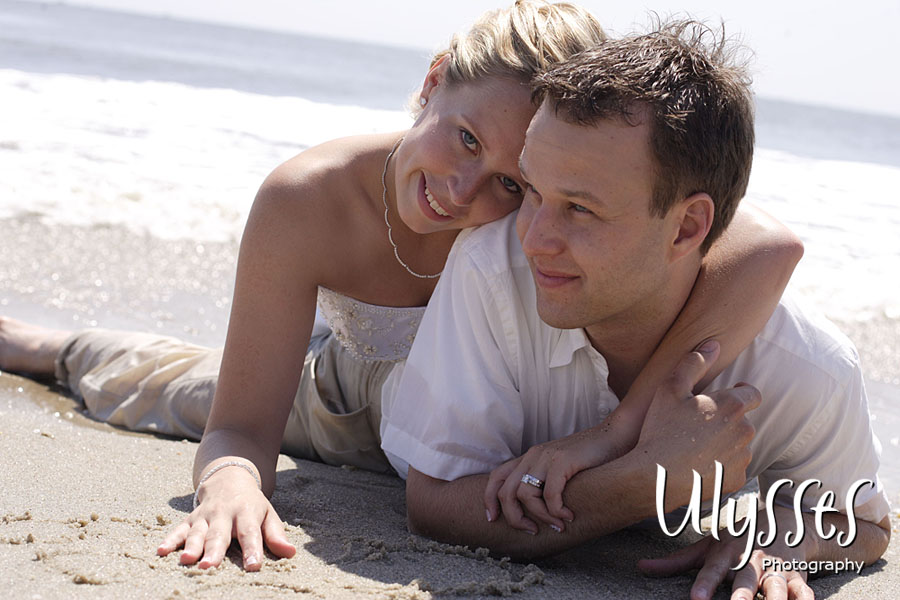 When they told us they were having their wedding on the beach, we knew that we absolutely needed to be Nicole and Mike's photographers. Everyone was excited about this one. They were married at the Ocean Place Resort & Spa, on the Jersey Shore. One small problem, though — it stormed on their wedding day! But their spirits simply would not be taken down by this rainy turn of events. Everything, including beach decor, was brought indoors, and their family and friends were all just as happy as they would have been on a sunny day. The music was provided by the excellent services of Master Disc Jockey Entertainment, who alternated recorded cuts of music with the live vocals of Kate Bradshaw. After cooling their dancing feet outside on the moist sands of the beach, Nicole and Mike lit some sparklers, watched them go out, and then called it a night.
But it wasn't over. The next morning we joined them on the sunlit beach under an incredibly blue sky for a "Morning After" session of photography (please email us if you want to know more about this type of session). They each wore their wedding attire again, and we all went for a stroll down the shore. The rising temperatures meant we needed to cool down, so what better way to do that than to invite them to jump into the ocean! Our awesome day of photography ended with each of us — cameras and all — in the Atlantic Ocean! What a fantastic way to say 'good morning' after your wedding day. Many thanks to Nicki and Mike for allowing us to share two incredible days with them and for getting completely soaked with us!
More with Nicole + Mike.