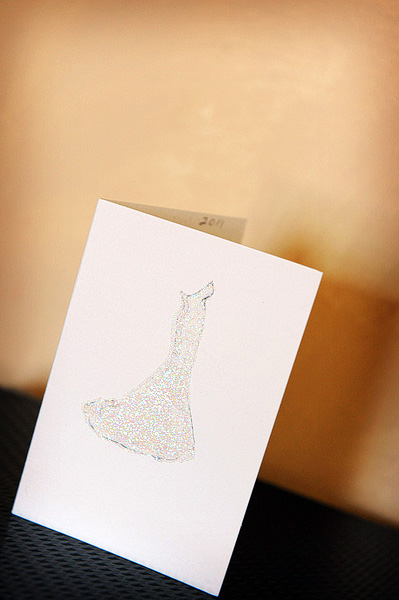 There was so much to enjoy about Andrea & Justin's wedding day that it's difficult to know where to begin. Was it their genuine emotions at seeing one another before their ceremony? their fun-loving playtime in a pair of over-sized Adirondack chairs? their luscious sense of styling including Andrea's fashionable blue Badgley Mischkas? their jazzy choreographed dance in front of hundreds?  It must have been the entire package that got us so excited! But even more than all of that, it thrills us to get an adorable note like this one, complete with gown and glitter, from a fantastic couple who loves what we do:
Dear Ulysses & Jenni,

Justin and I spent the entire weekend poring over our album. It is magnificent! Somehow seeing it all put together was a surprise, despite our having chosen the images and approved the layout. Our families are thrilled with the albums as well — proof of a job well done!

The slideshow was lovely — it made both me and my dad tear up while watching. To me, the slideshow is so much more tasteful than a wedding video. Thank you for all of the thought, care, and time you put into everything… Again, we couldn't be more pleased with the results.

You are both very talented artists and professionals. We are so very lucky to have worked with you!

Wishing you both the very best for 2011.

Andrea & Justin
Click here to see more with Andrea & Justin.