Jesyca and Bill are truly a special couple to us. Long-time readers of our blog might easily remember this most vivacious of couples from our sessions past: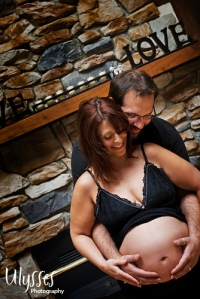 So, we were thrilled when they asked us to photograph Jesyca's maternity session. We wanted to provide for them the same sort of unique and enjoyable experience they had during their previous sessions with us. Jesyca was ready with a few different changes of outfit, hair and makeup beautifully done, and ready for whatever we asked. Bill was ready, too, with plenty of behind-the-scenes humor to keep us all laughing. It wasn't long before we had him join in with the photo shoot. We can't wait to join them again for baby photos in a few short weeks.
Their online gallery is coming soon. Look for it in the "Client Proofs" section of our main site.
Thanks for letting us have such a fun time again, Jes & Bill!