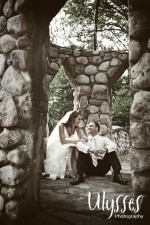 We couldn't wait to get this blog entry up about Kimberly & Eric's wedding. Their day was a veritable roller coaster ride of joy, anticipation, and a broad range of other emotions. Kimberly & Eric are quite simply perfect for one another. Surrounding themselves with friends who had nothing but their interests in mind, they had an unforgettable day.
Supply any number of adjectives – beautiful, gorgeous, ravishing, and more – Kimberly had them all covered. And Eric was right there with her, cutting a most handsome figure in his classic black tux and full-Windsor knot. When Kimberly walked down the aisle and saw him there at the end of it, you could tell that every other thought that might have been on her mind simply faded away. They were in a special place all their own at the outstanding Catlin Gardens. Following the ceremony, we were thrilled to spend some time with them walking through the beautiful gardens and creating some stunning portraits. (Click photo for a larger version.)
Kimberly & Eric, the space here is too small and the words are too few to tell you how much we've enjoyed photographing with you. This wedding was special for us not only because we got to spend time with you again, but also for the chance to see some past couples and friends again. No one was more excited to be there than Jenni and I. THANK YOU so much for just being yourselves and letting us "in" so that we could create for you.
We know you're anxious to see some photos. We've prepared a brief teaser slideshow so you'll have some idea of what's in store later on. Click the "PLAY" button in the box below:
The gallery will be available in the "Client Proofs" area of our main website when they return from the honeymoon. Make sure to check it out. And then come back and leave a comment for us or for Kimberly & Eric! We'd each love to hear from you.
Lots more with Kimberly & Eric in the following entries: