Our weekend was a full one, and we rounded it out with an awesome engagement session with Amanda & Jason. This was actually our first time meeting them, as they had booked us long-distance some time ago. But once we got together for this perfect Spring evening, it was as if we'd known them for years. Since the sunlight would rapidly fall behind the hills along the Hudson River, we got to work immediately. The light was just perfect, exactly what we wanted for their session.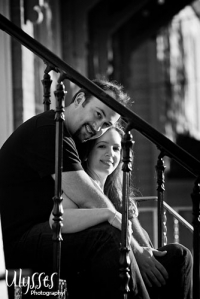 We talked throughout the entire session, getting to know one another better. Almost everyone feels nervous their first time working with a professional photographer, but these two were simply naturals. And that was key to their session — keeping a natural flow to things, while at the same time providing a bit of style and romance to their session. The time they invested with us was so well worth it, and we know they're going to be thrilled by the results. 🙂
Since the Onteora Mountain House is one of our favorite venues to shoot, we're really looking forward to their wedding. It's going to be on a beautiful autumn day.
The complete gallery is going to be available soon. Keep your browsers pointed to the "Client Proofs" area of our main website. We hope to hear what you think by clicking on the "Comments" icon below.
(Click any image to see a larger version.)