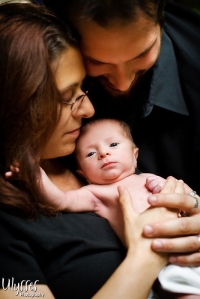 Get ready for cute!!! We again had the privilege to document the new arrival for one of our wedding couples, and I can't tell you how much joy this brings us. It's so amazing to watch their family grow right before our eyes! Jesyca and Bill seem positively awestruck at this little guy, and we don't blame them a bit. This lip-smacking, squeaky little guy is just too lovable!
Jesyca and Bill, thank you for inviting us into your lives again, and thank you for the gorgeous sunflowers – they are still making me smile. 🙂
We're moving as quickly as possible to get the entire proof gallery ready for the eager parents and grandparents. It will be released shortly on our main website under "Client Proofs." Until then, enjoy this preview photo.
(Click the above image to see a larger version.)